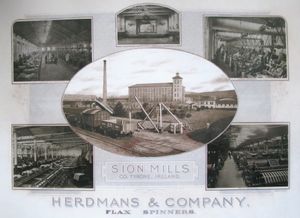 My woven fabric collection for interiors is focused on what was a world-renowned Irish linen spinning mill, Herdman's mill in Sion MIlls, which has been on my local horizon for nearly 200 years.
 
While pursuing this personal interest I have positively been surprised that dereliction, faded industry and the historical legacy of such endeavors are topics that seem to resonate with so many people from various walks of life. I see the beauty of dereliction in all its splendor and my interpretation of that beauty manifests itself in my woven structures through the wonderful shots of color that still remain within these buildings and the fragility of these skeletal like shells.
 
My collection links the history and legacy of the once vibrant past of my small community with the present and the future, whilst also representing modern issues in society with so many vacant properties punctuating our villages, towns and cities alongside the many once booming linen mills in Ireland which are now non-existent.
 
My interior fabrics are created with the age old craft of weaving married with print based process Devoré that allows me to burn away specific yarns from the fabric controlled with grid patterned screens. This effect creates an array of window-like structures throughout the fabric, mimicking the imposing windows of Herdman's mill, which allowed maximum daylight into the mill, and workers a view out of the towering structure. The muted hues of the fabric allow the eye to be drawn through these open grids and into an outside setting, whilst additionally complimenting a variety of interior settings through the use of timeless colors.